III International Conference on Colloid Chemistry and Physicochemical Mechanics
Tribute to Ferdinand Friedrich Reuß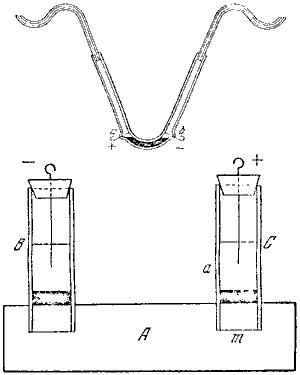 First electrokinetic phenomena (electrophoresis and electroosmosis) were discovered in 1807 by the professor of Moscow University F.F. Reuß (1778—1852). His paper « Notice sur un nouvel effet de l'électricité galvanique » whence the above schematics are extracted, was published in 1809.
Reuß Ferdinand Friedrich (Fedor Fedorovich) was head of Department of Chemistry at Moscow University since 1803, correspondent member of the St Petersburg Academy of Sciences since 1805, and full member of the Emperor's Medico-Surgical Academy since 1828. Besides studying electroosmosis and electrophoresis, he investigated into the therapeutic action of various drugs and studied the active principle of cinchona bark. He performed the analysis of mineral waters from Tver and Caucasus. Over several years, Reuß was the librarian of Moscow University and Chairman of the Physico-Medical Society. He was active in restoring the University after the fire of 1812. He returned to Germany in 1839.
Full text of the abstract of the plenary lecture "The discovery of electrokinetic phenomena in Moscow University" (Alexandre Pertsov, Elena Zaitseva) in PDF format: download.
(c) IC-CCPCM'2008, 2007.