III International Conference on Colloid Chemistry and Physicochemical Mechanics
Conference Venue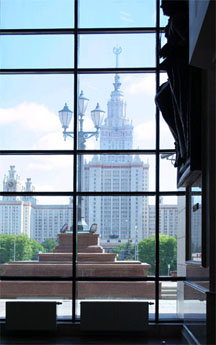 The Conference has been held in Moscow at Lomonosov Moscow State University (MSU), in Fundamental Library of Moscow University.
Plenary sessions, section symposia, exhibition and poster sessions have been held in Fundamental Library of MSU.
The building of Fundamental Library and building of Chemical Department are connected by underground walkway where one can see notheworthy models of various buildings of the Moscow University beginning from Aptekarsky House where the University was located in 1755, and ending by the Main Building on Sparrow Hills and the new building of Fundamental Library.
Address: Moscow, Lomonosovsky prospekt, 27
(c) IC-CCPCM'2008, 2007.